'On A Clear Day,' I Can See Harry Connick Jr.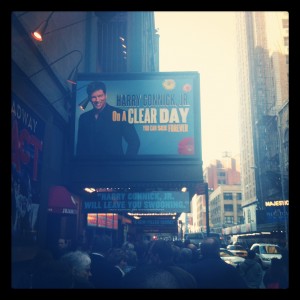 After swooning over Harry Connick Jr.'s broadway musical debut in The Pajama Game, I left hints for Santa that the perfect Christmas gift would be tickets to the re-imagined revival of "On A Clear Day, You Can See Forever" starring the handsome crooner. My husband came through with wonderful seats, front and center mezzanine.
I'm a big fan of Connick, with his rich voice, sharp wit and n'orleans charisma. The Pajama Game succeeded in taking full advantage of Connick's talents — song and dance man, jazz pianist and even a previously hidden physique, shown during the finale which had many an audience member gasping.
With a Tony-nominated show under his belt, I had high hopes for "On A Clear Day."  I came away disappointed.Whether due to the fact that Connick is rumored to be very unhappy is his role as Dr. Mark Bruckner, a 1970s psychiatrist who falls in love with the 1940s female jazz singer past-life regression of his hypnotized 29-year-old homosexual male patient (yes, that's the plot), or that the show simply doesn't take full advantage of Connick's many charms, it was lacking. As I overheard one audience member say after the show, "it was just missing something."
But bright spots were everywhere.
The score is a winner. There are jazzy big band songs, led not by Connick but by newcomer Jessie Mueller, whose character, Melinda Wells, steals the show on the hunt for a music career in 1943 New York City. Funky and fun 1970s tunes are mostly group numbers or duets by David Turner as Bruckner's patient, David Gamble, with back-up by his band of merry friends, including Gamble's squeaky fun best friend Muriel Bunson, played by Sarah Stiles and his devoted boyfriend Drew Gehling's Warren Smith.
And the cast was outstanding.  I don't want to sound trite, but Mueller's voice gave me chills and she should have a long career on the Great White Way.  Stiles left me giggling and created the perfect complement to Turner's scattered Gamble. Turner and Gehling nail the easy, if slightly awkward, portrayal of a mid-70s young gay couple.
One scene stood out as beyond exceptional. During the first act, the imaginatively creative choreography of Joann M. Hunter for the tune 'You're All The World to Me' is a threesome waltz with Connick, Mueller and Turner (the latter two are, after all, technically the same person) taking the floor together to represent the confusing emotional situation growing between them. It was natural, elegant and showcased the potential this show has.
But my disappointment was in Connick's awkward portrayal of the psychiatrist. Bruckner is left buttoned up in a suit with only one brief tie-less scene, singing mostly broadway-style ballads and duets. He has a chance to show his comedic chops in act two with "When I'm Being Born Again" and "Comeback To Me" but both numbers fizzle.
Connick underplays the part, whether by direction or lack of enthusiasm, but it left me wanting more.  And I don't mean his biceps.