Review: 'Smash' Hit Coming To NBC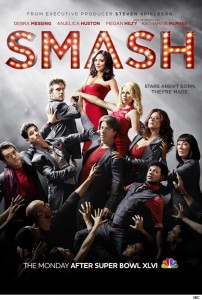 The preview of NBC's mid-season 'Smash' was available 'on demand' from my cable company this week and I couldn't resist seeing it "before" everyone else.
The 'Smash' pilot was wonderfully enjoyable.  The best way I can think of to describe it: 'Will & Grace' meets a mature 'Glee' with a modern 'Chorus Line' thread running through it.
Katharine McPhee was smashing…pardon the pun.  We already knew her voice was huge and, as a real-life green actress, she plays awkward would-be Broadway star, Karen, trying to land the larger-than-life role in a Marilyn Monroe musical.
Karen's competition, Ivy, played by Megan Hilty, is a Broadway regular who has yet to get her big break.  Hilty channels Marilyn in her song and dance scenes in the pilot.  'The National Pastime' was worth tracking down on YouTube for a second viewing. While McPhee is supposed to carry this show, Hilty is the standout in the pilot.
It was a mixed bag for veteran 'Smash' cast members — funny girl Debra Messing stayed in her comfort zone as half of the musical's writing team, along with TV newcomer Christian Borle. Anjelica Huston was boring as the divorcing producer, her character neither adding nor taking away from the pilot. I'm especially looking forward to seeing more of Jack Davenport – there was some Norrington ('Pirates of the Caribbean') nastiness in his musical director.
My only disappointment in the pilot was the somewhat smarmy Ellis played by Jaime Cepero.  I don't want to spoil anything, but I thought his employment status at the end of the episode was unbelievable.
Catch 'Smash' on February 6 (the Monday after the Super Bowl, if you haven't seen the advertisements)…or be like me and watch it before everyone else, right here: